Before I talk about the cake, I need to tell a hilarious story. My family and I are quite nerdy and are into superheroes, Harry Potter, Lord of the Rings, and Star Wars, One night at dinner, we were discussing if we could be any superhero, who we would be and why. As a little background, my daughter has a specials teacher (I'll call her Mrs. Jones) at her school who is known for not being too nice. The thought of going to this special had my poor son in tears on the first day of school for fear of being yelled at by her. So, when my daughter got to pick her superhero, she said, "I would be Iceman, so I could freeze Mrs. Jones, and put a sign on her that says, "Class dismissed." I seriously laughed so hard. That girl cracks me up. Now to the cake...
The first time I made this cake, I took it to my parent's house for dessert after dinner. My brother, who happens to love chocolate cake, took a decent sized piece. He took one bite and said, "This is hands-down the best chocolate cake I've ever had! How did you make this?!" Every time we get together for a birthday or if I'm supplying dessert, he quickly makes his way into the kitchen and asks if I made THE chocolate cake. For my son's birthday recently, he cut himself a piece the size of Vermont and ate the entire thing without hesitation. I can't say that I blame the guy! The flavor is complex and delicious, and it stays moist for days! I don't think I'll ever make another chocolate cake recipe because this one cannot be beat.
One last thing- don't be afraid of the addition of coffee! I don't drink the stuff, but my husband has Pero on hand, so I use that. Pero tastes just like coffee but doesn't have the caffeine. It makes the flavor of the cake outstanding!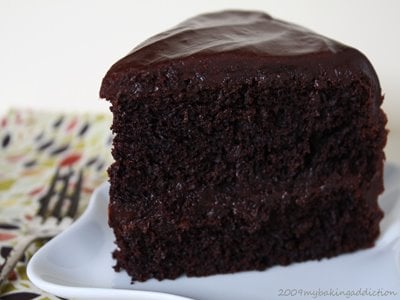 Hershey's Black Magic Cake
cake source: https://www.hersheys.com/recipes/recipe-details.aspx?id=4754
frosting source: Taste of Home 50th Anniversary Cookbook pg. 230
photo source: http://www.mybakingaddiction.com/black-magic-cake/
Ingredients for Cake:
2 c sugar
1 3/4 c flour
3/4 c cocoa
1 t baking powder
2 t baking soda
1 t salt
2 eggs
1 c buttermilk or sour milk*
1 c strong black coffee (I used Pero) or 2 t powdered instant coffee plus 1 c boiling water
1/2 c vegetable oil
1 t vanilla
Ingredients for one bowl frosting;
1/2 c butter
2/3 c cocoa
2-3 c powdered sugar
1/3 c milk
1 t vanilla
Heat oven to 350 degrees. Grease and flour two 9-inch round baking pans OR 1 9x13 pan.
Combine the sugar, flour, cocoa, baking soda, baking powder, and salt in your mixer's bowl. Use the paddle attachment to combine those ingredients together. Add the eggs, buttermilk, coffee, oil, and vanilla. Beat on medium speed for 2 minutes. (Remember- you've got a whole lot of liquid in there, so your batter will be very thin.)
Pour batter into prepared pans.
For the round pans- Bake 30-35 minutes
For the 9x13- Bake 35-40
Before taking it out for good, do the toothpick test. Stick a toothpick in the center of the cake, if it comes out clean, the cake is done.
Cool.
For the Frosting:
In a medium, microwave-safe bowl, melt the butter. Add the cocoa and stir to combine. Alternately add the powdered sugar and milk. Stir in vanilla.
(I wrote 2-3 c powdered sugar because I tend to use less powdered sugar. The full three cups makes the frosting too thick for my taste. I like it a little more like ganache. Feel free to use the full three cups if you'd like!)
*To make sour milk, put 1 T of lemon juice or vinegar in a 1 c measuring cup. Add milk to fill to the top. Let it rest for 5-10 minutes.