There is a girl that blogs recipes at melskitchencafe.com, and I take her word like gospel. Every recipe of hers that I have tried is amazing. In fact, if Mel and Martha Stewart were standing in front of me trying to offer cooking advice, I'd tell Martha to take a hike! Get your orange jumpsuit, Martha! You're dead to me!
I was hunting for a cranberry sauce last year, and it was my first time ever making it! Of course I went to melskitchencafe.com by default, and I found this gem of a recipe. It has raisins, apples, celery, and onion in it which is a little different, but sweet mercy it is delicious! My dad walked in and saw me carrying cranberries. I didn't get a "Hello! How are you?" I got, "Is that regular cranberries or cranberry chutney?" I don't even think he smiled at me! He is serious about his love for this cranberry chutney! I see no reason to ever make another type of cranberries, and for the love of all that is holy, do not use the canned stuff!!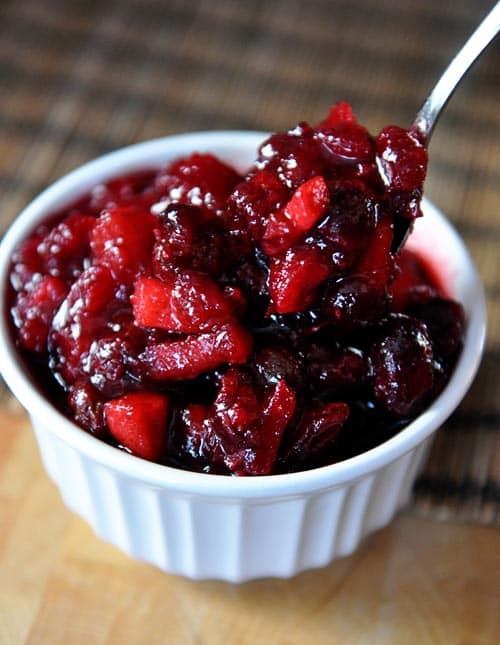 Fresh Cranberry Chutney
makes about 4 cups
4 c fresh cranberries
1 c dried raisins or craisins
1/2 c white sugar
3/4 c packed brown sugar
2 t cinnamon
1/2 t ginger
1/4 t cloves
1 c water
1/2 finely minced onion
1/2 c chopped granny Smith apple, peeled an cored
1/2 finely chopped celery
In a medium saucepan, combine the first eight ingredients. Bring to a boil over medium-high heat. Once it starts boiling, reduce the heat to medium-low and simmer until the berries start to pop, about 5-7 minutes.
Add the onion, apple, and celery. Continue to cook, stirring occasionally, until it starts to thicken, 5-10 more minutes.
Transfer to a container, cool slightly, an refrigerate overnight.