Me: I would take this sweet potato casserole over pumpkin pie any day of week!
My brother, with a lip smack and dirty look: You kiss your mother with that mouth!? How dare you?!
Seriously though, I would! This was, by far, my favorite dish on the Thanksgiving table. The mashed sweet potatoes, the crunchy pecan-Corn Flake topping, and roasted marshmallows blew my mind! Why did I not eat this stuff as a kid?! I find no need to hunt for a different sweet potato recipe for Thanksgiving. This is the best one I've ever tasted. Thanks blogger at damndelicious.net. These sweet potatoes, were, indeed, that.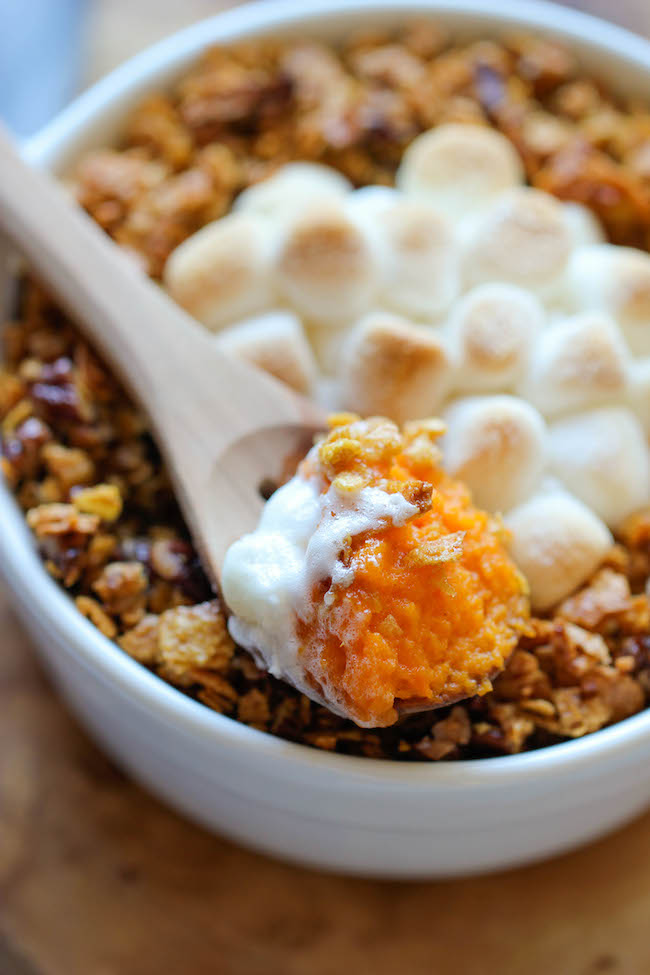 Sweet Potato Casserole
photo and recipe source:
http://damndelicious.net/2013/11/20/sweet-potato-casserole/
serves 6
3 pounds sweet potatoes
1/4 c unsalted butter, at room temperature
1/4 c sugar
1/4 c milk
1 large egg
1/2 t vanilla extract
1/4 t salt
For the topping:
1 1/4 c cornflakes, crushed
1/3 c pecans, chopped
1 T brown sugar
1 T unsalted butter, melted
1 c mini marshmallows
Preheat over to 400 degrees. Bake sweet potatoes for 1 hour, or until tender. Let cool before peeling.
Reduce temperature to 350 degrees. Lightly grease a 9 inch pie plate.
Make the topping. Combine cornflakes, pecans, and brown sugar. Stir in butter until well-combined; set aside.
In your mixer bowl, use the paddle attachment to beat the sweet potatoes, butter, sugar, milk, eggs, vanilla, and salt on medium-high heat until well-combined, about 1-2 minutes.
Pour the mixture into your prepared dish. Sprinkle the cornflake mixture around the edges, leaving the center open.
Bake for twenty minutes. Remove from oven and add the marshmallows in the center. Bake an additional 5 minutes or until the marshmallows are golden.
Serve immediately.